The Workshop Sundays organised by Friends of PSAD are back and next one will be run by tutors Julia Cassels (painting) and Barbara Gittings (pottery).
See details and download Booking form Here  or click on the images below. For any query you can contact us on email info@psadfriends.org.uk.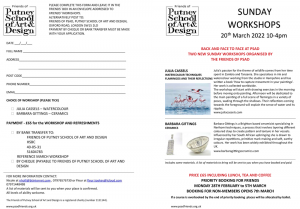 Julia Cassels specialises in ink and watercolour working from the studio in Hampshire and has written a book 'How to capture movement in your paintings'. Her passion for the theme of wildlife comes from the time spent in Zambia and Tanzania.
The subject of painting workshop will be 'Flamingos and their reflections'. For more details see Here.
Barbara Gittings is a Brighton based ceramicist specialising in Nerikomi techniques, a process that involves layering different coloured clays to create pattern and texture in her vessels. Influenced by her South African upbringing she is drawn to irregular repetition, primitive mark making and soft, earthy colours. Her work has been widely exhibited throughout the UK and we are delighted that she has agreed to do a workshop for us on Sunday 20th March.