See photos from the Fair :) thank you for coming !
Open to the public on Sunday 5th December, with a private view on Saturday evening 4th December.
The Friends are delighted to announce that the Christmas Fair is back (with a few careful covid modifications and preventive measures) and we will have stalls and exhibits all over the school
How to get involved: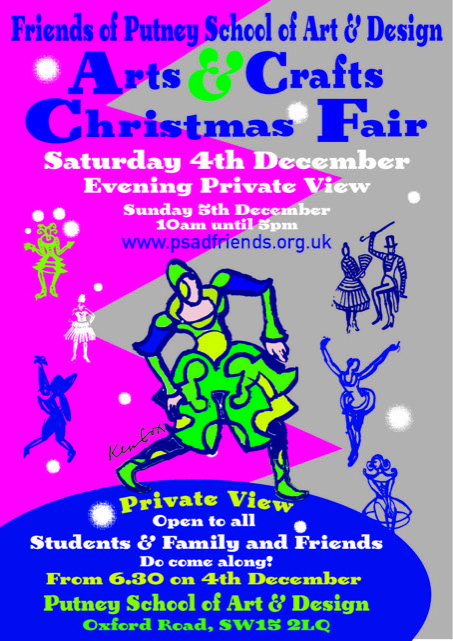 Donate for the FPSAD to raise money for the School:
Postcards – make a postcard sized original for the postcard wall, hand in finished work to the office
Pots (for sale) – please leave donated pots in the basement – seconds welcome, one person's reject can easily be an object of joy to someone else !
Send us your preview artworks – we will be publishing them in our online Gallery here.
Spread the word – contact your friends and neighbours !!!!!! Here is a Poster if you wish to forward to your network  PSAD Xmas fair Poster
Below an overview of all that will be happening at the fair
ARTS AND CRAFTS
CRAFT STALLS, PAINTINGS, ORIGINAL PRINTS, CERAMICS, ART BOOKS
GIFTS AND ORIGINAL ART POSTCARDS
LIVE MUSIC, MULLED WINE
CHILDREN'S BOOKS
FRIENDS MERCHANDISE – SPECIAL OFFERS AND DISCOUNTS :)
This annual showcase and fundraising event is organised by Putney School of Art and Design (PSAD) and Friends of the School (FPSAD). Whilst raising the profile of the individual artists this event makes an important contribution to the local community by showcasing the School art and design courses.
Students at the School will exhibit and sell their works throughout the school premises. This year's display will include a rich selection of techniques and mediums including original prints, limited edition photographs, framed work and beautiful and quirky ceramics. Unique collection of artists original cards will be available, created specially for this event. Art studios will have over 30 arts and crafts stalls with unique painted and hand made items. There will be a separate area offering bespoke school prints and merchandise including artist aprons and artist decorated tea mugs. School tutors and accomplished illustrators and writers Jane Porter and Sophie Ambrose will be there with their Children's books, which they will personally sign.
Refreshments will be offered in the cafe throughout the day.
There will be an opportunity for budding artists to talk to students and teachers about studying at the school.
Please Visit !