PSAD Artists present a screen printing exhibition!
A group of PSAD screen printing students will exhibit in Parsons Green at the Andrew Robson Bridge Club. It is a private club so it will only be open to the public on the 6th May with private view from 6-8:30pm.
Come and visit the show !
Address: Andrew Robson Bridge Club, 31 Parsons Green Lane, SW6 4HH
Open on the 6 May. Private view at 6pm–8.30pm. Admission Free.
Click on invitation poster and see some more details and included artists below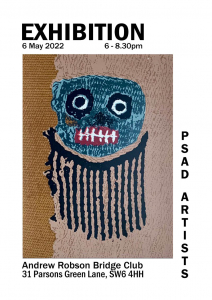 Art is powerful.  It can inspire and comfort but equally it can alarm and unsettle.  That is it's beauty.  Our group of artists met through The Putney School of Art, where we discuss, debate, disagree, and ultimately learn and develop our art.  We want to share this with you, to move you, and maybe make you feel something different and new.  We hope this will be an enjoyable evening where attendees can enjoy a glass of something from the bar while taking in the display.  All art in the exhibition will be available for purchase.
Artists:
Martin Abrahams
Becky Cards
Betsy Clark
Nicole Coleman
Ghislaine de Give
Phillippa Egerton (MA in printmaking)
Kim Elkington
Justine Ellis (Screen Printing Fellow RCA)
Bernice Flynn
Pippa Gravestock
Catherine Hodgson
Charters Macdonald-Brown
Emmanuelle Mathieson
Katie Preston
Marcy Richardson (Exhibited at the 2021 RA Summer Show)
Sherry Wilson
Isabel Wooller