SPROUTARTS gallery is hosting the Putney Printmakers!  Six PSAD artists are taking part, showcasing their screen printing work.
Open until 25 November, 10 am – 5 pm
Address: SPROUTARTS Gallery, 74 Moyser road, Furzedown SWQ16 6SQ
Below is the list of all participating artists.
Click on the poster for a larger view.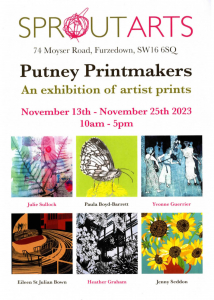 Artists:
Julie Sullock
Paula Boyd-Barrett
Yvonne Guerrier
Eileen St Julian Bown
Heather Graham
Jenny Seddon
—