The annual PSAD Summer Exhibition is approaching and we hope that every student will enter this year, for a great show ! There will be art and pottery prizes including Liz Bull Award, given in the memory of the artist and a former PSAD student Liz Bull, and sponsored by her family.
All students are invited to enter art work. You can get a free entry form from the school receptions (both campuses), back of the PSDA library or download here Student Exhibition Form 2023. or request it by emailing to: psad@enablelc.org.
More details here Annual Student Exhibition 2023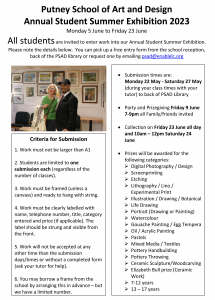 Submission times: Monday 22 May – Saturday 27 May (during the class times with your tutor)
Party and Prizegiving evening: Friday 9 June 7pm – 9pm
All students and tutors are invited to the evening event. It will be a showcase celebration of the schools year work and refreshments will be on offer.
More details on PSAD website.