The students of Putney School of Art and Design course Expressive Painting and Drawing are holding an exhibition at Fulham Palace!
Course tutor Sarah Sparkes has met the curator at the Palace to organise the show, which is held from 3 to 31 August, at the Palace's Terrick Gallery. Student Alison Downe wrote a blog post about the class and the course The Walled Garden Exhibition
Link to Fulham Palace news and exhibitions  Fulham Palace What's On
Artists: Pat Dark, Rachel Deacon, Alison Down, Hardeep Kalsi, Penelope Holme Kirman, Helen Shannon and Helen Walker.
Click on Poster and Photo album below.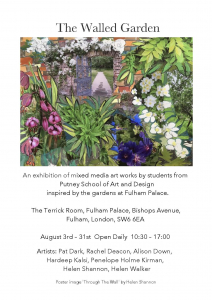 Here are some photographs of students with their work at Fulham Palace.