We are delighted to announce that this year PSAD Christmas Fair will take place over the weekend of  2nd and 3rd December in the Art School building in Oxford Road, SW15 2LQ. The selling Art exhibition will be on display throughout the school prior and after the fair. The Private view evening for students, tutors and their guests will be held on Saturday 2nd December from 6.30pm, followed by the Christmas Fair on 3rd December from 10am. The cafe will be open throughout the day. Come with friends and family and get some original art and gifts!
This annual showcase and fundraising event is organised by Putney School of Art and Design (PSAD) and Friends of the School (FPSAD). Whilst raising the profile of the individual artists this event will showcase the School art and design courses. There will be an opportunity for budding artists to talk to students and teachers about studying at the school.
Click on Poster below.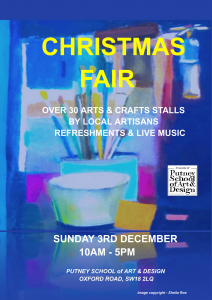 The arts and crafts stalls and display will include original prints, limited edition photographs, framed work as well as our annual 50 Shades of Clay shop with beautiful, quirky and affordable hand made ceramics that our school is renowned for! Includes pieces by renowned ceramicists John Dawson and Allan Manham. You can find preview of some of the artworks in our Online Gallery.
The accomplished children's books author and illustrator Jane Porter will sign her books, making it a very special gift! In addition you might find a hidden gem in our Donated Art Books shop.
Unique collection of artists original cards will be available, created specially for this event.
The original Friends Merchandise will be available at the Fair and online.
Below an overview of all that will be happening at the fair
ARTS AND CRAFTS
CRAFT STALLS, PAINTINGS, ORIGINAL PRINTS, CERAMICS, ART BOOKS
GIFTS AND ORIGINAL ART POSTCARDS
LIVE MUSIC, MULLED WINE
CHILDREN'S BOOKS SIGNED BY AUTHOR
FRIENDS MERCHANDISE – SPECIAL OFFERS AND DISCOUNTS :)
How you can get involved
Visit the fair, invite friends and family!
Donate for the FPSAD to raise money for the School.
Postcards – make a postcard sized original for the postcard wall, hand in finished work to the School office or reception.
Pots (for sale) – please leave donated pots in reception area at Disraeli road site – seconds welcome, one person's reject can easily be an object of joy to someone else !
Send us your preview artworks – we will be publishing them in our Online Gallery.
Spread the word – contact your friends and neighbours !
If you have any queries or questions please contact us on info@psadfriends.org.uk
Credit: Artwork on the Poster by artist Sheila Roe.
Poster and photo of the School by Mark Hayman.
Below pictures of some of the last year's artworks, click on each for a larger view.