We are delighted to announce that this year PSAD Christmas Fair will take place over the weekend of  2nd and 3rd December in the Art School building in Oxford Road, SW15 2LQ.
PRIVATE VIEW will be held on the evening of 2nd December – for you, your family and friends with music, wine and presentations to Diploma Students. Open to all on Sunday 3rd December from 10 am – 5 pm.
Click on Poster below.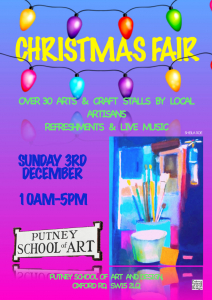 We would love it if the school artists as well as any local artist and artisan would like to get in touch with a view to taking a table. See all initial details Here or click on Info Sheet below.
We look forward to your applications !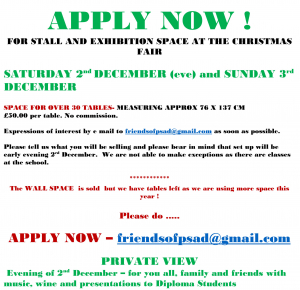 How to apply for exhibition space
Expressions of interest by email friendsofpsad@gmail.com as soon as possible.
The WALL SPACE is sold but we have tables left as we are using more space this year !
Please tell us what you will be selling and please bear in mind that set up will be early evening 2rd December (PV eve). We are not able to make exceptions as there are classes at the school.
Further details will be here on the website and social media shortly.
How to get involved
Donate for the FPSAD to raise money for the School:
Postcards – make a postcard sized original for the postcard wall, hand in finished work to the office
Pots (for sale) – please leave donated pots in reception area at Disraeli road site – seconds welcome, one person's reject can easily be an object of joy to someone else !
Send us your preview artworks – we will be publishing them in our online Gallery here.
Spread the word – contact your friends and neighbours !
Below an overview of all that will be happening at the fair
ARTS AND CRAFTS
CRAFT STALLS, PAINTINGS, ORIGINAL PRINTS, CERAMICS, ART BOOKS
GIFTS AND ORIGINAL ART POSTCARDS
LIVE MUSIC, MULLED WINE
CHILDREN'S BOOKS
FRIENDS MERCHANDISE – SPECIAL OFFERS AND DISCOUNTS :)
Credit: Painting on the Poster courtesy of artist Sheila Roe.