The first Workshop Sunday of the year was organised and held by the Friends of PSAD on the 26 March 2023 at the School new 3D Campus in Disraeli Road.
Read below students' reviews and scroll right down for the photographs from the day !
Review by Yvonne Lewis, PSAD pottery student, on Rachel Wood – Ceramics
Robert Redford shouldn't have had a facelift, Rachel Wood suggested by way of explaining her approach to her work. His wrinkles and signs of ageing were integral to his face, and part of his beauty, and so it is with pots. In her own words: 'I want each pot to convey its own spirit and character…to have a pulse and a heartbeat. I want the marks to reflect the journey and exploration of learning…just as a wrinkle or dimple depicts expression and character in a human face.'
Thirteen pottery students gathered in the Studio on Boat Race Sunday. Outside, Putney was beginning to pulse, and early pints were being pulled, while inside a respectful hush descended as the award-winning veteran of countless exhibitions and teaching residencies took us through her own journey, from a childhood love of landscape and green spaces to studying ceramics as a mature student at Loughborough College of Art & Design, via periods in Europe and Australia. The latter, interestingly, in a period of drought and marauding bush fires. The places she visited and the people she met, and worked with, all left their marks, and their colours. The practical part of the day was inspiring. Rachel demonstrated her methods very clearly and had brought several beautiful pots for us to see, so after lunch we were all keen to get our hands dirty. I think we're all now looking forward to resuming our works in progress and emulating Rachel as far as we possibly can.
Huge thanks to the Friends for organising this wonderful day, to Simon for his technical assistance, and of course to Rachel.
Rachel has posted a nice impression on her latest Newsletter – just click on the picture to read.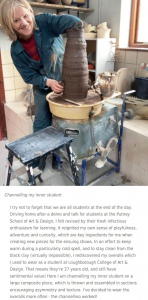 Review by Lynne Citroen-Barratt, PSAD student, on Shaun Carey – Landscapes
Shaun's one day workshop on using pastels for landscapes and cityscapes was a real joy. The sessions were full of energy and fun and he is clearly a very experienced artist and teacher. He gave excellent and informative demonstrations of pastel work, peppered with illustrations of artists' work and inspiring quotations. All participants were given individual attention and encouraged to experiment, together with the permission to discover new ways of doing things. I felt that my own style and creativity were given space and came away excited by what I was able to achieve in this class, together with my own fledgling potential acknowledged.
Photo album – click on first photo. Photos by Yvonne Lewis and Fleur Tookey, artwork by Lynne Citroen-Barrat.
For any query you can contact us on email: info@psadfriends.org.uk . To Join the Friends click Here.