The London Design Festival is back in its 19th edition. Vibrant array of events, exhibitions, projects, installations, discussions and more, will take place across London from 18 to 26 September 2021.
Visit ! Get involved ! Join !
https://www.londondesignfestival.com/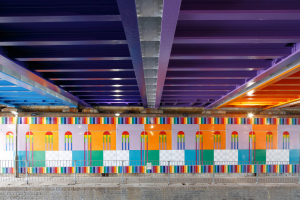 Photograph shows the temporary project 'Bring London Together' by artist Yinka Ilori. This vibrant public artwork will see colours splashed onto 11 pedestrian crossings on Tottenham Court Road in Camden and 6 crossings on the Queen Street pedestrian plaza in the City of London. It is commissioned for the Mayor of London's 'Let's Do London' domestic tourism campaign, supported by Bloomberg.
The project will also encourage public participation, with volunteers invited to help paint the Queen Street pedestrian area. The artist is  working in collaboration with UAL students, providing them with the first hand experience of public art commission. Three students will showcase their work for crossings in the City of London – Annabel Maguire, Sophie Cornish-Keefe and Eliot Everton.
Credits : Artwork – Happy Street by Yinka Ilori, Photo – Luke O'Donovan