We are delighted to announce the forthcoming Pottery and Art Workshops.  Priority booking is available to members of the Friends Monday 25th September – Saturday 7th October. Booking open to all students the following Monday 9th October. Payment by card preferred at either office together with completed form.
Please be informed that the 3D Campus in Disraeli Road presently has no disabled access to upper floor – for Oil Painting Workshop. We are sorry for that. This is being addressed by the school.
You can download here the Booking form. They are also be available at both Campuses.
All information and cost Here or click on the Poster below.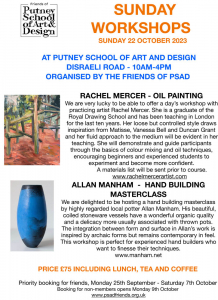 Rachel Mercer – Oil Painting
On this course, we will make an oil painting in a day working from a still-life inspired by Matisse, Vanessa Bell and Georges Braque. Participants will consider techniques in observation, combined with painterly brushstrokes and free use of colour. Through demonstrations and guidance participants can expect to familiarise themselves with the tools of the oil painter while learning techniques to improve fluency and accuracy in their painting. A paint mixing demonstration, will help participants consider the fundamentals of colour theory when selecting the colours for their painting. Structured teaching is balanced with an approach that encourages playfulness and exploration while painting. By the end of the course participants will feel more confident mixing tonal values and hues to produce a fresh and vibrant still life painting. Suitable for all levels, beginners welcome. A materials list will be sent to attendees prior to course. One sheet of A3 oil painting paper will be provided for your painting. Students will be shown a method for wrapping and protecting their paintings for the journey home whether bus, train or car.
Born in Cambridgeshire, Rachel Mercer studied at Cardiff School of Art and Design graduating in 2012 before being awarded the postgraduate programme at The Royal Drawing School. Since 2014 she has been a painter and educator working in London. She has exhibited in the UK, Athens and China and had work purchased for the Royal Collection by HM Charles III.
Instagram @rachelmercerartist
Website https://www.rachelmercerartist.com/
Allan Manham – Ceramics
We are delighted to be hosting a hand building masterclass by this highly regarded local potter. Allan's beautiful, coiled stoneware vessels have a wonderful organic quality and a delicacy more usually associated with thrown pots. The integration between form and surface in his work is inspired by archaic forms but remains contemporary in feel. This workshop is perfect for experienced hand builders who want to finesse their techniques.
Website: https://www.manham.net/ 
More info on Allan's Pots of the Month.
For any query you can contact us on email:
Pottery workshop, Nicole Hollingworth, nholli@btinternet.com
Art workshop, Fleur Tookey, fleurtookey@icloud.com
To Join the Friends click Here.