Get ready to apply for the next Workshop Sunday organised by Friends of PSAD  ! It will be run by artist, tutor and lecturer Nick Pearson (painting) and potter Tina Vlassopulos (ceramics).
Booking will be open to students on the 3rd October. The priority booking for Friends will be open 26 September – 1 October 2022.
To Join the Friends click Here.
The Booking form Here or Click on below image.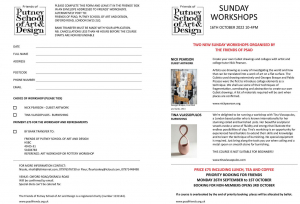 Create your own Cubist drawings and collages with artist and college tutor Nick Pearson.
Artists use drawing as a way of investigating the world and how that can be translated into a work of art on a flat surface. The Cubists used drawing extensively and Georges Braque and Pablo Picasso were the first to introduce collage elements as a technique. We shall use some of their techniques of fragmentation, overdrawing and abstraction to create our own Cubist drawings. A list of materials required will be sent when places are confirmed.
Nick Pearson is an internationally exhibited contemporary visual artist, an enthusiastic studio tutor and art history lecturer with a passion for art of all periods. He has taught at various levels in schools, further and higher-education colleges, universities and adult-learning centres(including London College of Contemporary Arts (LCCA), Richmond Art School and University of Oxford.
We're delighted to be running a workshop with Tina Vlassopulos, a London based potter who is known internationally for her stunning coiled and burnished pots. Her beautiful sculptural vessels evoke a sense of fluidity and energy that illustrate the endless possibilities of clay. Tina's workshop is an opportunity for experienced hand builders to extend their skills and knowledge and to learn the technique of burnishing. No special equipment is required. Just bring along the tools you use when coiling and a metal spoon or smooth stone for burnishing. Please note that this course is not suitable for beginners.
Link to Tina's article on burnishing technique Here.
For any query you can contact us on email info@psadfriends.org.uk.