We are delighted to announce a newly commissioned piece – a stylish tea mug with artwork by Margaret Knott.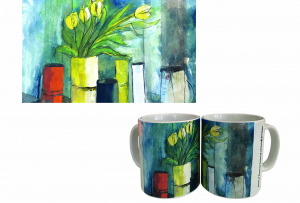 The Friends has created a small collection of stylish and practical, specially commissioned pieces which you can enjoy or give to your friends and family, whilst at the same time supporting the school. All items are available at the School. They are displayed in the cabinet next to the canteen servery where you can purchase them. You can also find them at the forthcoming Christmas Fair or email us on info@psadfriends.org.uk
Margaret Knott is an accomplished artist who has exhibited in Paris and New York and numerous UK exhibitions, now through Will's Art Warehouse and New Ashgate Farnham. She went to St. Martin's School of Art in the fifties, and then worked as a graphic designer – her work was published in 'Designers in Britain'. Later she learnt ceramics at Putney School of Art, taught it, and now does etching there.
Link to all items Here.