Signing up was an informal affair today ! Vicky and Nicole were joined by the very young (Vicky's grandson) and four legged friends :)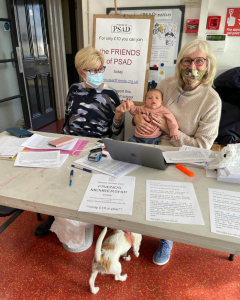 Join the Friends of Putney School of Art and Design ! See all details Here.
You can pay online via Friends new website Here. Also the Friends will be in School every day during the week commencing 4th and 11th October:
9.30. – 10.00am
1 – 2pm
6.15 – 6.45pm
We look forward to seeing you at our next Friends event at the school on the 13 November, 7pm. Art lecture by Linda Smith.
Details Here.