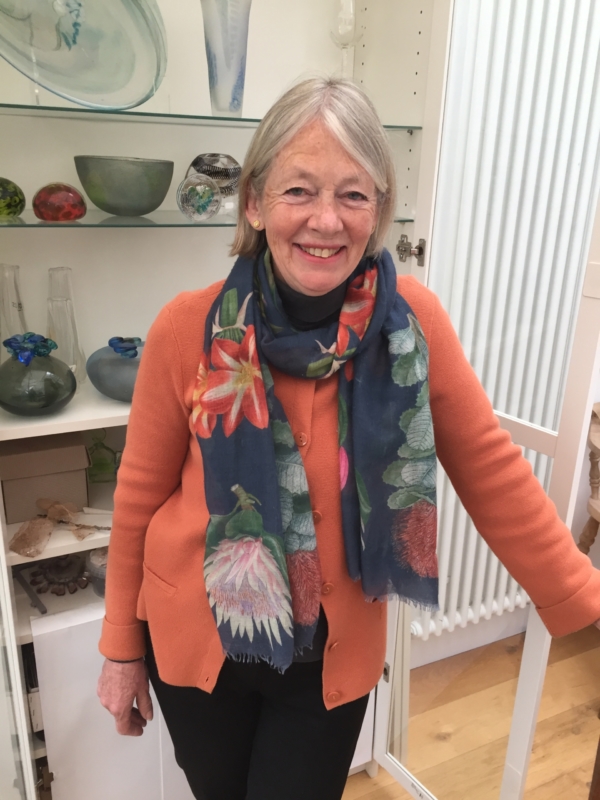 Fleur Tookey
Fleur is a member of the Management Committee  of the Friends of Putney School of Art & Design.
Fleur first attended Putney Art School in about 1985, studying life drawing under Brian Carvahlo.  After a long gap she joined a summer course with Liz Elmhurst and then attended an inspiring and challenging course with Gavin Maughfling. Fleur then returned to her more painterly roots and had some happy terms with Ian Ellis.  She is dipping in and out of printmaking and some day courses at the moment.
Fleur's working life from 1969 until its closure in 1998 was as one of the directors of the Glasshouse in Covent Garden, helping to run and keep the studio and gallery at the forefront of the studio glass movement, whilst also making her own work, was a very fulfilling and exciting period.  She then established Looking Glass Gates, a small business providing special mirrors for gardens. She has been concentrating more on painting and making collages in recent years.
Fleur has always been at home in an Art School environment and felt that any time she had spare for voluntary work would be best suited to the Art world and she is delighted to be involved with the Friends of PSAD. She organises the commissioning, production and selling of the wonderful Friends merchandise.