Chelsea Art Society 73rd Summer Annual Exhibition will be on from Thursday, 16th to Monday until 20th June 2022.
The Society's Open Art exhibition is a firmly established annual event, in its home at Chelsea Old Town Hall since 1994. Over 800 paintings and sculptures are shown, attracting both established artists and younger ones producing innovative work. The Exhibition is back after two years break. There will be over £10k of prizes.
Handing-In Day – Monday, 13th June 2022 from 8.30 am to 3.00 pm
Artists' Opening with the Mayor of Kensington and Chelsea – Thursday, 16th June 2022 at 6 pm
Link with all details Chelsea Art Society Annual Exhibition 2022.
Click on PRIZES below.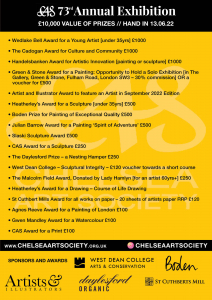 Click on Call for Entries poster below.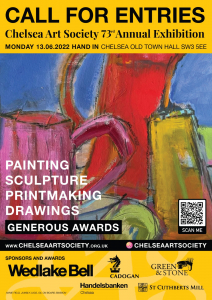 The Society will also hold an Autumn exhibition at 340 Kings Road, SW3 5UR from 1st to 16th October 2022 sponsored by Sloane Stanley and Wedlake Bell. Follow the Society's website for updates for Autumn exhibition.