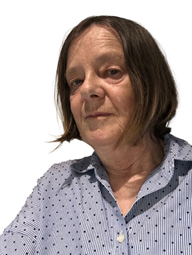 Yvonne Guerrier, Treasurer
Yvonne is the Treasurer of the Trustees of the Friends of Putney School of Art & Design.
Yvonne is a long term Putney resident.  She has been doing classes at Putney School of Art on and off for over 20 years. In 2014, she discovered the Friday screen-printing class. She has been an enthusiastic printmaker ever since; more recently taking up etching as well. She started exhibiting her work with the Friday printmakers, at the Art School and at the Friends' exhibitions. This gave her the experience and confidence to join Southbank Printmakers and her work is permanently on view at their gallery in Gabriel's Wharf on London's Southbank.
Before she retired, Yvonne was a university professor and management consultant specialising in management in the hospitality and leisure industry. When she is not in Putney, she spends time in her second home in South-West France.